For over 25 years, Revision Skincare has provided physicians with clinically proven, high-performing skincare products. Using only the purest, most efficacious ingredients, the Revision Skincare collection was formulated to provide targeted solutions for enhancing skin's appearance and reducing signs of aging.
Revision Skincare products represent the furthest advancements in scientific skincare. Our formulations are rooted in rigorous research and testing, and manufactured by us using the highest ethical standards. Revision Skincare products are never tested on animals.
While Revision Skincare is first and foremost about serious skincare, we are inspired every day by the positive effects our products have on people's lives.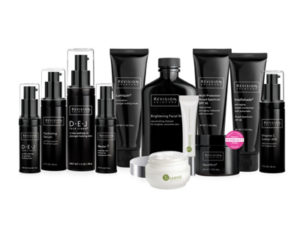 Revision Brightening Facial Wash– Alpha and beta hydroxy acids and natural skin-brightening botanicals help exfoliate and brighten the skin. This rich, luxurious cleanser removes the day's make-up and impurities, leaving skin feeling clean, smooth and hydrated. Ideal for all skin types.
Revision D.E.J. Face Cream- Combines a unique combination of ingredients for proven anti-aging results. Hydrates, brightens, firms and smooth's skin.
Revision Hydrating Serum– This 100% oil-free serum contains an ultra-light texture that instantly absorbs into the skin.
Revision Nectifirm– Formulated with powerful peptides and other anti-aging ingredients specifically for the skin on the neck. Firms and tightens; reduces appearance of adipose tissue under the chin; lessens look of lines and wrinkles; helps to smooth away crepiness and roughness.
Revision Restorative Night Cream– This nutrient-rich moisturizer is formulated with an exclusive selection of ingredients that hydrate and condition skin while you sleep.
Revision Vitamin C 30%- This Vitamin C Lotion is formulated with the newest, highly stabilized form of Vitamin C (THD Ascorbate) for healthy, radiant skin. This 30% formula contains one of the strongest concentrations of Vitamin C available. Brightens dull skin, reduces appearance of fine lines and wrinkles, moisturizes and conditions skin.
Revision Intellishade SPF 45 (Tinted) – Sheer, mineral tint for radiant skin. Breakthrough peptides reduce the appearance of fine lines and wrinkles. Light weight; superior hydration. Comes in both Original and Matte finish.
Revision Multi-Protection SPF 50– A light-weight moisturizing sunscreen formulated to reduce the appearance of fine lines and wrinkles.
Revision Finishing Touch Scrub– Contains Polynesian volcanic black sand and ultra-fine pumice for great exfoliation Contains freshwater silt to nourish skin and help absorb toxins. Leaves skin feeling clean, smooth and moisturized.
Revision Black Mask– This purifying yet non-drying facial treatment deep cleans skin ridding it of impurities, excess sebum and other toxins. Natural exfoliators leave skin looking polished and smooth. Leaves skin hydrated and soft.  Ideal for all skin types.
Revision D.E.J. Eye Cream– Advanced ingredients work cohesively to create clinically proven results. Helps to firm, moisturize, reduce lines & wrinkles and brighten skin.
Revision Teamine Eye Complex– Specifically formulated with Teamine to reduce the appearance of dark circles, puffiness, fine lines and wrinkles.
Revision Retinol Complete- Formulated with high levels of pure, time released Retinol to reduce the appearance of fine lines and wrinkles; brightens, plumps and smooths skin's texture. Contains a blend of antioxidants to hydrate the skin. Use this product at night only.
Revox7–  This age-defying, oil-free serum is uniquely formulated to reduce the appearance of expression lines on the face.
CONTACT US
To schedule an appointment, request more information, or other matters, please call our office.
303-463-9600
HOURS + ADDRESS
Mon-Wed 8-5p
Thurs 8-5p (closed 11:30-2p)
Friday 8a-4p
Conveniently located near I-70 in Golden, Colorado.