During intensive medical research at Fox Chase Research Center, a ground-breaking treatment to reduce the signs of aging was discovered when the scientists uncovered an enzyme called F3K, which furthers the production of toxic sugars in the skin. That process causes serious inflammation and glycation, two distinct events that contribute to skin aging. But glycation and inflammation are not limited to disease — they happen in everyone's body and skin and are exacerbated by toxic sugars from our diets and normal metabolism. Our research scientists discovered a compound that intervenes in the production and availability of toxic sugars – a leading cause of inflammation, skin aging and wrinkling – in skin.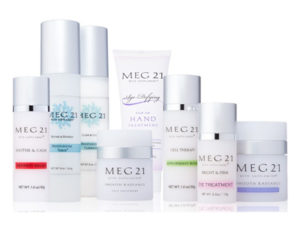 Supplamine prevents skin damage in two distinct ways: by preventing the development of toxic sugars and neutralizing the toxic sugars in our systems. MEG 21 products with Supplamine: prevent skin aging and wrinkling; stop glycation, inflammation, and oxidative stress; boost collagen production; target toxic sugars in skin; and even tone skin and reverse the appearance of aging skin. MEG 21 with patented age-reversing Supplamine® attacks each of these conditions resulting in major skin improvement.
Meg21 Cleanser– A balanced blend of gentle cleansers and botanicals lifts away dirt, unclogs pores and protects your skin cells, leaving your skin nourished. With Trinity Tea Complex and Soapbark to clean and hydrate skin, our Moisturizing Cleanser also contains Supplamine, a natural amino acid, that inactivates toxic sugars.
Meg21 Toner- Infused with Supplamine, Sodium Hyaluronate to maintain moisture, Multi Fruit Acids for gentle exfoliation, Trinity Tea Complex to fight free radicals, Arnica to reduce irritation, and Calendula to soothe and heal skin, this Amino Acid-rich, antioxidant complex provides accelerated cellular repair.
Meg 21 Eye Treatment- Exclusive supplamine technology combined with powerful anti-inflammatory botanical extracts significantly reduces the appearance of puffiness, discoloration, fine lines and crow's feet. The eye area appears more luminous and visibly rejuvenated.
Meg 21 Face Treatment & Meg 21 Advanced Treatment- This elegant night moisturizer reduces appearance of fine lines/wrinkles and improves overall skin texture and smoothness. Contains Supplamine, a powerful formulation for addressing the effects of glycation and oxidative stress on skin.
Meg 21 Redness Relief- This moisturizer for both AM & PM is an effective anti-inflammatory treatment that relieves skin redness and soothes the skin. Ideal for rosacea patients and after cosmetic procedures.
CONTACT US
To schedule an appointment, request more information, or other matters, please call our office.
303-463-9600
HOURS + ADDRESS
Mon-Wed 8-5p
Thurs 8-5p (closed 11:30-2p)
Friday 8a-4p
Conveniently located near I-70 in Golden, Colorado.